In the team of three psychology PGRs are Becca (2nd year), Anna and Simon (both 3rd years working hard on their theses). They have teamed up to race in the Bournemouth International Triathlon on 5th July doing the sprint distance: 750m Channel swim, 22k bike ride, and a 5k run between Bournemouth and Boscombe piers.
Becca, Anna and Simon are raising funds for Marie Curie UK, a charity that helps people affected by terminal illnesses.
Why are they doing it? Because they want to help; one night of nursing care costs an £160, which is a lot of money for those affected and needing support. Anna, one of the team members says: "My undergraduate lecturer died of cancer last year at the age of thirty six. Nurses and staff at a Marie Curie hospice had helped him tremendously during his struggle with the illness and he was always praising them for their dedication and all the work they did. If we can provide some comfort to others by our fundraising initiative, then this is all we want to do. We'll do all the running anyway!"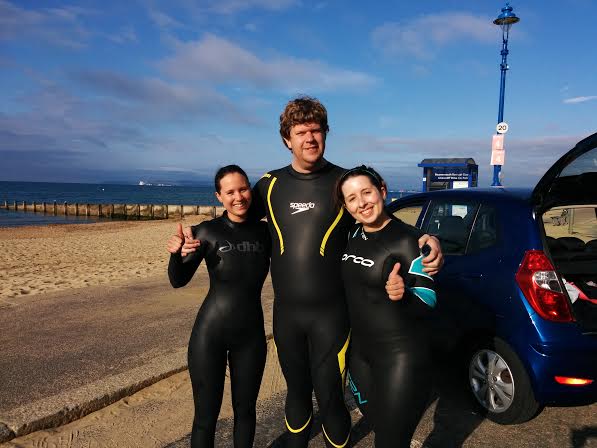 The team has a very successful record of supporting Marie Curie UK and has taken part in Pandemonium Obstacle Race in 2014, raising an amazing £385 for the charity.
This year so far, team PhD has collected £335 via their Just Giving page and with two weeks until the race, there is still time to raise more! If you would like to sponsor Anna, Becca and Simon, please visit their Just Giving Page on: https://www.justgiving.com/Team-PhD/