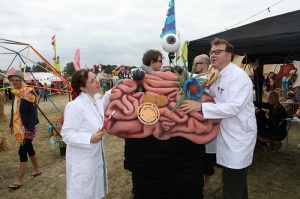 Since 2007 Guerilla Science, supported by the Wellcome Trust, STFC and The Royal Academy of Engineering, has been running bespoke events, activities and performances in unconventional habitats for science. The aim is to embed science into culture by taking researchers out of their institutions and into the public domain thus providing researchers with new ways of engaging with people. As part of this they have been running events at music festivals, such as Glastonbury and the Secret Garden Party. By combining science with art and music they aim to reach a young artsy crowd with little background in science.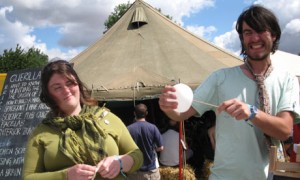 A survey in 2010 demonstrated that ca. 80% weren't expecting to encounter science at a festival and that many participants said they stumbled across the activities by accident but stayed because they looked fun. In addition 84% said they would 'definitely take part again'.
Promoting research through the arts is not new to Bournemouth University, and the Centre for qualitative Research in HSC has won a number of awards which include this type of activity as part of the dissemination plan, for example Dr Kip Jones' New Dynamics of Ageing ESRC-funded project which has produced a film – Rufus Stone.