Dr Celia Beckett, Knowledge Transfer Partnership (KTP) research associate at BU and Five Rivers Child Care Ltd attended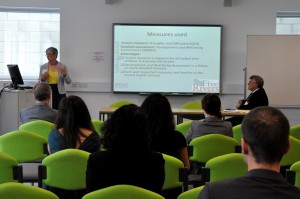 the KTP Associates' Conference at Brighton University on 13th June. She presented a paper on the pilot stage of her project "Improving the care of children in residential units: assessment and interventions". The conference, which is a Brighton University initiative supported by the Centre for Collaboration and Partnership, was well attended and there were 10 paper presentations and 8 posters. Topics ranged from roller blinds to leak repair additives for coolant systems! A recurring theme at the conference was the role of the KTP in working to effect change in organisations that result in improved commercial outcomes as well as the challenges and rewards of this role.
There are c. 800 KTP associates currently working on projects throughout the UK, ensuring that there is an exchange of knowledge between Universities and private / public companies, making a real difference to all those organisations involved in KTPs. It is one of the largest graduate schemes in the UK. More information about BU's KTPs can be found at the newly relaunched Business Pages.
Celia will also be presenting a poster at the forthcoming  Recovery-focused conference: Engagement in Life: Promoting Wellbeing and Mental Health, hosted by BU on 6th September 2013.