The scientific journal Nepal Journal of Epidemiology published its fourth and final issue of 2021 on December 31.  This issue included our systematic review 'Epidemiologic characteristics, clinical management and Public Health Implications of Coronavirus Disease 2019 (COVID-19) in Pregnancy: A Systematic Review and meta-analysis'.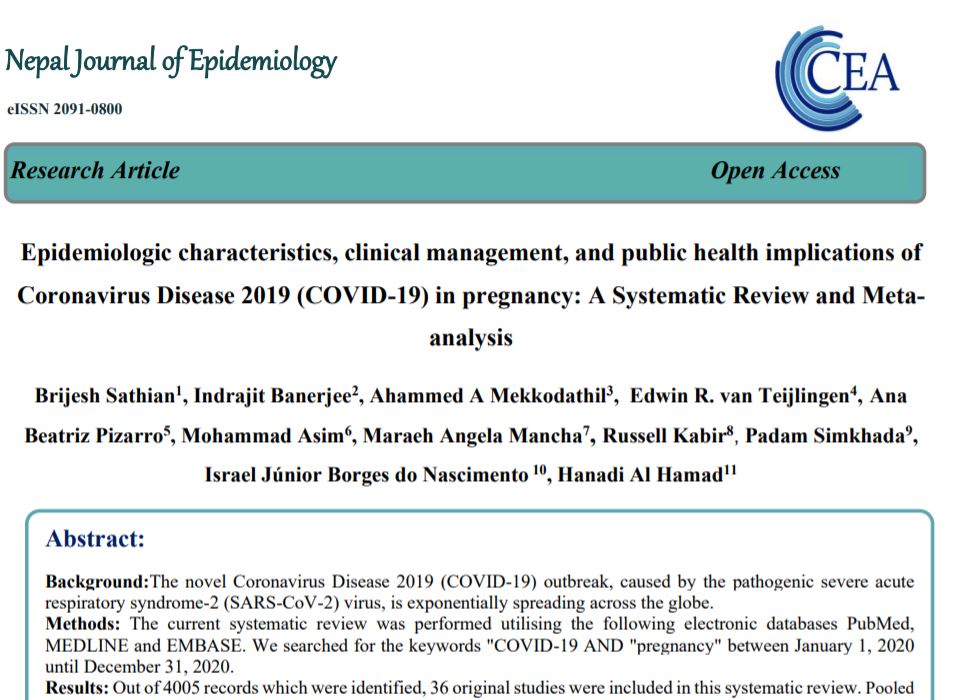 This review covered the published literature on the epidemiology, clinical management and public health prevention aspects of pregnancy and childbirth and coronavirus (COVID-19) up until December 2020.  We worked hard and fast to submit the paper as soon as possible after the end of 2020 to be able to publish up-to-date findings.  We managed this and submitted the paper on March 5th, the peer-review took some months and so did the making of the revisions.  As a result we resubmitted the manuscript of 29 September and we got the acceptance email within a week.  We made it into the next issue of the Nepal Journal of Epidemiology which published exactly one year after the data collection period had ended for our systematic review.

There are two lessons here, first even when submitting to an online journal one will experience a delay in publishing.  Secondly, the 36 papers we had appraised and included were published in 2020, meaning these scientific  papers were submitted in mid-2020 at the latest in order to make it through the peer-review process, get accepted and formatted for online publication.
In the resubmitted version we had to add as a weakness of this review that: "It is worth noting that this extensive systematic review only cover papers published in 2020, and hence studies conducted in or before 2020. This was before the emergence of variants of COVID-19, especially the delta and omicron variants."
Prof. Edwin van Teijlingen
CMMPH (Centre for Midwifery, Maternal & Perinatal Health).