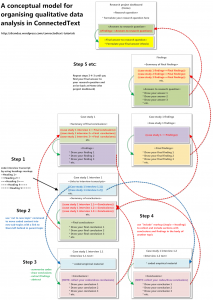 Day 2
Assumes these decisions have been made and focuses on analysing your data. And whereas day 1 is largely conceptual, day 2 is mainly practical and is quite technical. Most people understand that setting up your database correctly is paramount to getting a return on the time and energy expended in learning the software tool. Given that manual interpretive coding in NVivo is not really any faster than using a manual system as you still have to code line by line, the benefit of using NVivo is in the retrieval and reporting on codes. Day 2 therefore focuses on interrogating (querying in database terminology) and reporting on results so that findings can be supported with high quality outputs or appendices. Also, the ability to support your coding processes with coding tables for example, means that you can also demonstrate rigour in your methodology chapter which helps to establish your credibility as a researcher and make your findings trustworthy and plausible.
We have hired the services of an external facilitator to offer support in this for academic staff as part of the BRAD programme. Ben Meehan worked in industry for twenty six years. For the past thirteen years he has worked as an independent consultant in support of computer aided qualitative data analysis projects (CAQDAS). He is a QSR approved trainer and consultant. He has worked in all of the major universities and Institutes of Technology in Ireland and Northern Ireland. His work outside of the educational sector includes major global companies such as Intel where he consults in support of their on-going ethnographic research and the Centre for Global Health where he has recently worked in Tanzania, Malawi and Mozambique (2009) and in Ghana, Burkina Faso and Tanzania with the University of Heidelberg (2010) and Ethiopia for the Ethiopian Public Health Association (2011) and the Population Council, Zambia (2012). Apart from Africa, Ben regularly conducts workshops in Germany, France, UK, Northern Ireland, the US (Maryland, 2011, Yale, 2012) and Australia.
The session is on Tues 16th April 2015 09:00 – 17:00 on Talbot campus. There are limited spaces so please do ensure you get one by booking on the Organisational and Staff Development webpages.