What is ResearcherID?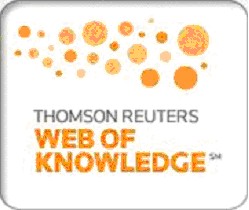 ResearcherID is a facility provided via the Thomson Reuters ISI Web of Knowledge database. You can register for a unique researcher identification number which enables you to link directly to your published outputs and avoid the common problem of author misidentification. Users can update their profile information, build their publication list by using the Thomson Reuters Web of Science search facilities or by uploading files, and opt to make their profile public or private. Registered as well as non-registered users can search the ResearcherID registry to view profiles and find potential collaborators. You can also now search ResearcherID from within the Web of Science.
A ResearcherID number is a unique identifier that consists of alphanumeric characters. Each number contains the year you registered.
The benefits of registering for ResearcherID
The main benefit is the ability to build your own custom profile and correctly identify you as the author of your publications. Once registered, you will be provided with the tools to build your publication list by searching ISI Web of Knowledge and Web of Science, or by uploading your own list. You can choose whether or not to make your profile public.

ResearcherID is also integrated with EndNote Web, so you can build your online publication list either by searching Web of Science or uploading RIS files, or by using the EndNote Web online search. You can also manage your publication list via EndNote Web. For a tutorial on using EndNote Web, click here.
Once you've put together your publications list, you can then generate the following citation metrics for items available in the Web of Science:
H-index
Citation distribution per year
Total Times Cited count
Average Times Cited count
These metrics will be automatically updated in ResearcherID from the Web of Science as new data is added to the Web of Science.
ResearcherID can also help you find potential research collaborators by enabling you to search the ResearcherID registry. You can also explore an interactive map that can help you locate researchers by country and topic, or you can use the new country 'tag cloud'.
Registering for ResearcherID
Go to the ResearcherID homepage then click on 'Register' and complete the short online form. You will be sent an email with a link to ResearcherID and a more detailed form appears for you to complete. Once you have completed this, and accepted the terms and conditions, you will receive your unique ResearcherID. Note that you will be sent these details in an email.
When you log in using your ResearcherID and password, you will be taken to your own publications web page with a unique URL. You can include this link on your email signatures so that others can easily access your publications.
Managing your publications
Under 'MyPublications' you will have an option to 'Add'. Alternatively there is an 'Add Publications' button on the right hand side of the screen that will take you to the same location. This will give you the three options of searching for or adding a file:
ISI Web of Science
EndNote Web
RIS text file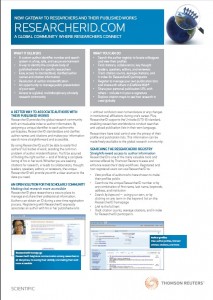 Clicking on the publications database will bring up a search screen. Ensure that your surname and initials are correctly entered and click search. Any publications that are already included on your ResearcherID web page will appear in the list and be ticked already. If you wish to add others, tick the relevant box and click 'Add selections to MyPublications'. The process works the same for all databases. Please note that you need to have an EndNote Web account.
To delete publications, simply click on the 'Manage' button under MyPublications.
For a ResearcherID factsheet, click here.