Dr Christa van Raalte and Dr Richard Wallis write for The Conversation about the culture and working practices within the TV industry…
Russell Brand allegations are leading to renewed scrutiny of the endemic bullying and harassment in the TV industry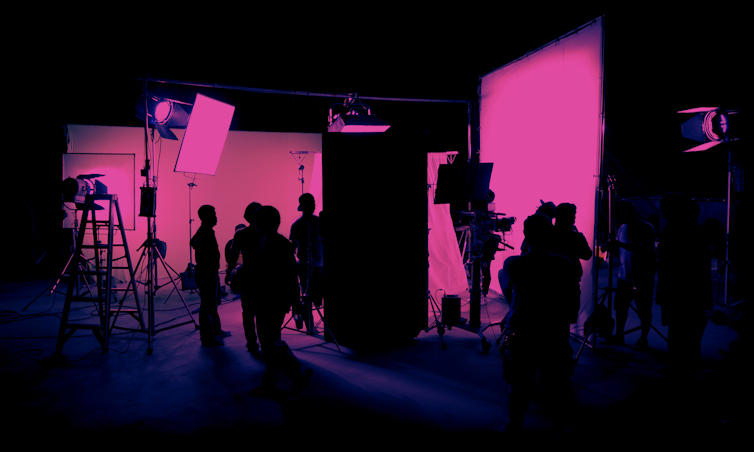 Christa van Raalte, Bournemouth University and Richard Wallis, Bournemouth University
The presenter, comedian and actor Russell Brand is at the centre of a joint investigation by The Times, The Sunday Times and Channel 4 Dispatches, which has reported allegations of abuse made against him by four women, which include emotional abuse, sexual assault and rape. Brand has denied these allegations, saying his relationships have been "always consensual", and they have not been tested in any court of law. However, this investigation focuses attention on a problem at the heart of the culture of the UK's television industry.
According to the investigation, many of the allegations were borne out of what TV industry insiders describe as a working culture that tolerates, even facilitates, the abuse of power by its "talent". A runner on one of Brand's shows, interviewed for the Channel 4 film, recalls a colleague's response on hearing of Brand's behaviour: "Girls, girls. You know, it's what happens with the talent. Boys will be boys."
These allegations are only the most recent in a seemingly endless stream of high-profile incidents dating back to 2012 and the uncovering of historic abuse by the broadcaster Jimmy Savile. This scandal is clearly referenced in Dispatches' documentary's title, Russell Brand: In Plain Sight (Savile was described across the media at the time as having hidden "in plain sight").
There have been many efforts at industry reform since 2012. However, we continue to see regular revelations of alleged bad behaviour – from accusations levelled at staff at Gogglebox to complaints recently made about TV chef James Martin.
Often abuses are all too conveniently attributed to "a few bad apples". Yet the reality is that bullying and harassment are endemic in the UK television industry. We found this in a survey we conducted in 2021 of nearly 1,200 television professionals.
A staggering 93% of respondents had experienced or witnessed bullying or harassment at work during their careers. The Film and Television Charity's 2022 report on mental health in the industry supports these findings, with nearly half of respondents reporting personal experience of bullying, harassment or discrimination in the previous 12 months.
Brand may or may not ultimately be found to be a "bad apple" but he's prominent in an industry where such alleged cases, as recent interviewees in the media have attested to, are often open secrets and accepted as part of the nature of the work.
Bullying and abuse as systemic problems in UK television
Our research suggests that the problem is structural and systemic.
Research in organisational behaviour shows that certain characteristics of work increase the likelihood of bad behaviour. It is more likely to happen where workloads are high and mentally demanding. It is more likely where roles are not well-defined or where people are constantly asked to balance conflicting demands.
It is common where teams are working under pressure to tight schedules, where lines of communication are unclear and critically where job insecurity makes workers reluctant to report concerns. All of these circumstances characterise current working conditions in UK television.
Over the past two or three years various mechanisms have been introduced to encourage the reporting of unacceptable behaviour and the abuse of power in the television industry. A new bullying watchdog, the Creative Industries Independent Standards Authority (CIISA), is currently refining its brief before a planned launch next year.
Arising out of the work of Time's Up UK, which campaigns against discrimination and sexism in the workplace, this is certainly a welcome development. However, it does little to tackle the underlying structural issues, including the culture of fear that enables serial abusers.
Facilitated abuse
The TV executive quoted as dismissing staff concerns in the Dispatches film was not unusual in her attitude. The kind of work environment in which bullies and abusers feel able to operate with impunity – and victims feel disempowered – is common.
Industry insiders claim that Brand's activities were an "open secret" and that staff were "basically acting as pimps" for him, being expected to provide his contact details to women in his studio audiences.
Multiple complaints from crew members reportedly went unheeded. It is also claimed that in a development meeting for a new show, when the issue of his behaviour toward female crew was raised, one producer's suggestion was to use an all-male crew – an idea which could potentially be putting female professionals out of work.
The investigation suggests that the alleged way in which Brand's behaviour was tolerated by successive employers effectively gave the star permission to abuse the women around him. In a Guardian review of the Channel 4 documentary, Jack Seale accurately identified a "collective culpability that resonates well beyond whatever one man might have done".
In our written evidence to the culture, media and sport parliamentary select committee this week, we are proposing an industry-wide code of practice to support good work and employment arrangements. We also hope to discourage the use of exploitative and unethical ways of working.
There needs to be a clear-cut way for staff to report bullying and harassment. And managers need to be made aware of their legal and ethical responsibilities in caring for their staff.
We hope that the film and television industries can set a positive example for the wider creative industries, where similar problems are reported. Fundamental changes are needed now and the industry cannot remain the sort of environment that facilitates bullying and harassment, moving from one scandal to the next.
These allegations are a wake-up call. The TV industry cannot continue the way it has.

Christa van Raalte, Associate Professor of Film and Television, Bournemouth University and Richard Wallis, Principal Academic in Media Production, Faculty of Media & Communication, Bournemouth University
This article is republished from The Conversation under a Creative Commons license. Read the original article.