Prof Carol Clark and Prof Vanora Hundley travelled to Dhulikhel in the Kavrepalanchok District of Nepal to deliver a workshop on research methodology.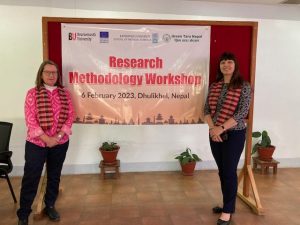 The attendees included nurses, lecturers and senior academics from Kathmandu University. Together the group discussed the research gaps in women's health in Nepal and the types of studies needed to help build evidence for practice.
Like many countries, research into women's health is a neglected area but one that is beginning to gather strength. The discussion identified research gaps in specific areas of health, such as postnatal care and nutrition, and also cross-cutting themes, such as empowerment and education. Next steps for research collaboration were also discussed.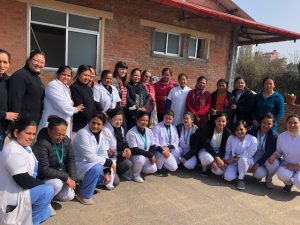 The workshop was supported by Erasmus+ and Green Tara Nepal (GTN).  Erasmus+ is the European Commission's flagship for financial support of mobility for Higher Education students, teachers and institutions. Bournemouth University has been working with GTN for the last two decades and has collaborations with BU academics including Prof Edwin van Teijlingen, D. Pramod Regmi, Prof Carol Clark, Dr Nirmal Aryal, Dr Shanti Shanker, and Prof Vanora Hundley.