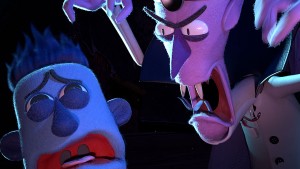 One of the main objectives of The VFX Hub is to raise the profile of Bournemouth as a centre of excellence for VFX[1] and Animation. Our solution was BFX – a competition designed to find and nurture the next generation of talent in the animation and VFX industry and a festival that would promote the fantastic work being produced by UK studios.
In October 2012 we made a short film, incorporating animation/VFX content produced by students from the AUB [2] and the NCCA [3] the diversity of creative styles and disciplines across both institutions provided us with a wealth of material. The film launched BFX to an audience of industry professionals, academics and journalists at BAFTA in November 2012. Alex Hope MD, Double Negative spoke passionately about encouraging young people to pursue a career in the creative industries and commented that the BFX Competition was exactly what he and many of his contemporaries had wanted to see for a long time.
Following the launch, universities that ran relevant courses were targeted and in early 2013 we toured the UK, pitching the BFX Competition directly to students and course leaders. We provided 5 briefs in the form of short passages from copyright-free literature and invited the students to form teams of 4-6 members and submit creative/technical treatments for a 30 second film. By May we had received entries from 24 teams of 135 individuals and with the help of professionals from all the major studios and sector leaders from Creative Skillset 10 teams of 55 individual members were selected to take part.
The competition was a 6-week residential event, with 8 teams at Bournemouth University and 2 at AUB. The competitors were mentored by professionals from The Mill, MPC, Double Negative, Framestore, Hibbert Ralph, Outpost VFX and Blue Zoo, who all visited campus regularly over the 6-weeks , using our online mentoring tool in between visits; with their involvement the work produced by the teams surpassed all expectations.
In both 2013 and 2014 3 competitors were offered fully funded postgraduate places at BU and AUB. These were all taken up. Each year several were offered jobs immediately after the competition. All of the London mentoring companies (x4) have given jobs to BFX competitors, with at least 12 of them currently employed in London facilities houses.
The BFX 2013 Festival ran in September, with 3-days of workshops, master classes, presentations, screenings, and a weekend of family activities, including a free children's animation workshop and outdoor cinema showing Finding Nemo, Lilo and Stitch and The Wrong Trousers. The highlight of the festival was a retrospective of Industrial Light and Magic. Willi Geiger, ILM's Head of Computer Graphics, presented the work to a capacity audience. An evening screening of Ron Howard's movie 'Rush' followed by a Q&A with the VFX team responsible for recreating some of the film's iconic scenes, was also popular.
The main festival content, which was held on campus and open to anyone to attend. The largest group was students, professionals, schoolchildren and members of the public also came. There were presentations by a host of studios, including Framestore, MPC, The Mill, Double Negative, Seed Animation, Glassworks, ILM and DreamWorks Animation. We also ran several workshops, led by industry and academics. £50k was raised in actual cash sponsorship plus the same again with in-kind support. (£15k in 2013.) (Sponsors included: AUB, Creative Skillset, Next Limit Technologies, Autodesk and Chaos Group.)
The 2014 BFX Competition, competitors were given a selection of one page screenplays, written by students studying MA Screenwriting at BU. This created a more conventional industry pipeline of production. The timescale increased to 7 weeks. 20 teams/126 individuals entered, and 8 teams/45 competitors selected. Again industry support was incredible, with mentors coming in every week and also offering online advice on a daily basis. BFX 2014 Competition results were even better than in 2013 and showcased a wider range of techniques.
Early 2014 BBC [4] became a major sponsor of the BFX festival and secured the BIC [5] for the event. Additional sponsors: Silicon South[6],C4L, AMD, The Foundry, Amari, Next Limit, The Chaos Group, 3D Artist and Golaem. Spread over 5 days in September, presenters included a number of sponsors and studios (as above) plus Animal Logic, Microsoft Games, Media Molecule and Nvisible. Several movies were screened with VFX team Q&A's, including The Lego Movie, Frozen, Gravity and Maleficant. We also ran a Careers Hub, Children's Animation Workshops and a Disney Exhibition featuring almost 90 pieces from the 1958 classic Sleeping Beauty and the 2014 live action remake Maleficant, on loan from Disney Studios. The main festival attracted c400 delegates/daily with 79 families (150+ children) booking in for the children's animation workshop.
[1] Visual Effects – VFX
[2] Arts University Bournemouth – AUB –
[3] National Centre for Computer Animation at Bournemouth University – NCCA
[4] Bournemouth Borough Council – BBC
[5] Bournemouth International Centre – BIC
[6] Silicon South – Dorset LEP funded partnership promoting the creative industries – siliconsouth.org.uk
(HEFCE provide funding for knowledge exchange (Higher Education Innovation Funding (HEIF)) to support and develop a broad range of knowledge-based interactions between universities and colleges and the wider world, which result in economic and social benefit to the UK. This case study was submitted to HEFCE as part of the auditing and reporting process. HEIF 5 funding ran from 2011 – 2015.) – See more at: http://www.bfxfestival.com/