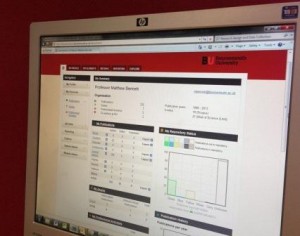 When the new version of BRIAN is released later this month, a new Research field will be included.
The research field is intended to be used to capture information on your research projects, themes, areas of interest etc.  Use this field to provide up to date information on your current activities and future plans such as conference presentations, attendance etc.
It is important that you update your research information on a regular basis to ensure your profile page contains the most recent information.  Bi-weekly/weekly updates are ideal.  The research information will appear on the front page of the new staff profile pages so it will be easily visible outside BU.
The maximum number of characters for this information is 2,000.
Here is an example of how a research entry could look:
I am currently conducting a research study examining the use of digital imagery in news reporting during times of crisis.
My most recent book, Great Expectations, was published by Chapman and Hall, in June 2013.
My overseas work is largely based in Peru where I am involved in the evaluation of a community-based project funded by Amantani.  This involves connecting communities, and in particular, school aged children with global changes.  I will be visiting Lima and Arequipa in October '13 to continue with my research and hope to establish a network with Guayaquil in Ecuador.
I am organising a conference to be held on 13th November 2013 on the 'Transparency and accountability of journalism'.  Applications for papers to be submitted will be open on 1st October.  More details can be found here: www.journo.conf@BU.ac.uk
If you are interested in journalism in countries in conflict then please contact me for potential collaboration opportunities at joe.bloggs@BU.ac.uk
If you have time in the next couple of weeks, please prepare your research entry so that it can be pasted into BRIAN when the new Research field becomes available.