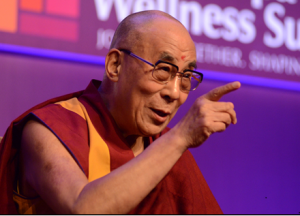 What a defining moment it was to be addressed by the Dalai Lama, winner of the Nobel Peace Prize and one of the world's most popular spiritual leaders. The occasion was The Global Spa and Wellness Summit (GSWS) in New Delhi, where for the first time world-renowned tourism experts got together to discuss, define, and shape, the best strategies to grow, this new and emerging tourism sector.
The Global Spa & Wellness Summit (GSWS) is an international organization representing senior executives and leaders from over 40 countries, joined by a common interest to drive economic development and understanding of the spa and wellness industries. Delegates from diverse sectors, including hospitality, tourism, health and wellness, beauty, finance, medical, real estate, manufacturing and technology, attended the organization's annual Summit, which is held in a different host country each year. Ministries of tourism and ambassadors were in Delhi to share their current strategies and future plans to attract more business and leisure wellness travellers; however academics were rather thin on the ground!
Personally and professionally it was the experience of a lifetime.