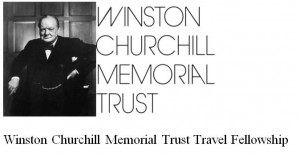 Part-time HSC Ph.D. student Anita Immanuel has been awarded a travel fellowship by the Winston Churchill Memorial Trust.  This travel fellowship will enable her to visit experts in her field working in Australia and Canada.  Anita's Ph.D. study examines the quality of lives of adults who have survived cancer of the blood or lymphatic system. Patients with haematological cancers have frequently reported lack of care-coordination as an unmet need following their intensive treatment.  
 Dr. Helen McCarthy, Anita's clinical Ph.D. supervisor at Bournemouth Hospital congratulated her by saying: "The travel will give her a global experience which she can translate into recommendations for improving care provision in the UK." 
 Dr. Jane Hunt commented: "Anita's research is something she is passionate about. Her research will identify any unmet needs in this group of patients and will give us a better understanding into comprehensive survivorship care thereby maximising quality of life."
There are currently no proper guidelines or care path ways for the follow up care for patients who have completed treatment for blood and lymphatic cancers in the UK.  However, both Australia and Canada have well established models of follow-up care for cancer survivors.   With the increase in the number of cancer survivors and possible long-term side effects that could impact on the quality of life, it is important to formalise the post-treatment follow up and provide a seamless coordination between the health care providers. 
Anita highlighted: "I am delighted to have been selected for a Winston Churchill Memorial Trust Travel Fellowship.  The Travel Fellowship will allow me to visit to countries where the notion of survivorship is better developed and where we in the NHS can learn from the way care is organised."
Prof. Edwin van Teijlingen, Anita's third supervisor added: "The Fellowship will contribute to the underdeveloped area of care for and research into adult haematological cancer survivors.  I am particular pleased that Anita has achieved this as a part-time student working simultaneously in the NHS."