Every year the prestigious Alzheimer's Disease International conference welcomes practitioners, academics, people living with dementia, medical professionals and clinicians from all over the world to share their latest knowledge, experience and research about dementia careThis year I was lucky enough to attend and represent BUDI at the 29th International Conference of Alzheimer's Disease International Dementia: Working Together for a Global Solution, hosted in San Juan on the beautiful island of Puerto Rico.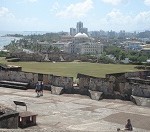 Three abstracts were accepted to be orally presented, so this was a great opportunity to showcase some of BUDI's innovative research projects to world leading dementia specialists. The three presented projects were the Technology Club (Dementia Care and Technology), Tales of the Sea (Empowering people with dementia) and (Dont) Mention Dementia (Voices of people with dementia and their families).
All three presentations were well received and stimulated discussion and many questions. The feedback I received after my presentations and during the conference was that BUDI's projects were seen as innovative, creative and great examples of how to engage people with dementia in research and how people with dementia should be at the core of all research.
Above and beyond presenting, I had the opportunity to catch up with Peter, an Australian colleague (who I have been working on the international GRIID research project with for around two years and have never met!) Peter presented the GRIID project (Gateway to Rural International Initiatives in Dementia) at this conference. After his presentation we were able to meet and come up with some really innovative ideas to take the GRIID project to the next level.
To top off a very successful conference, I won a huge kangaroo courtesy of the Australian Alzheimer's Association. He was unfortunately a bit too big to fit into my case so he to travelled home with another colleague…I wonder if I will ever get him back as he was very cute!
Since returning home I have started to get in touch with some of the many contacts I made at this conference and look forward to potential international collaborations. This conference highlights all the good work currently being undertaken but also emphasises the amount of work we still need to do. I invite you to check out the below clip of Richard Taylor PhD, who presented numerous times at the conference. Richard is extremely funny and has a great approach and attitude to life. It is very thought provoking as he shares his thoughts about living with dementia. http://www.youtube.com/watch?v=lHQfc3KJ9qE.
Clare Cutler, BUDI Project Manager