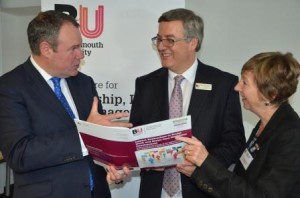 A centre to provide leadership and management development opportunities and support across the health and social care sector has been launched at  BU.
The Centre for Leadership, Impact and Management in Bournemouth (CLiMB)  offers a range of development options – including leadership and management programmes; coaching and mentoring development; accreditation for in-house programmes; and consultancy, research and impact evaluation.
Director of CLiMB Professor Keith Brown said: "CLiMB is being launched to bring together Bournemouth University's strengths of research, consultancy and education in the leadership of health and social care services.  "Never before have these services been under the level of financial pressure and public scrutiny that they are currently, coupled with increasingly high public expectations for quality services.  "These needs and demands can only be met by better leadership at all levels within the health and social care sector."
The centre has been launched after more than five years of research and development in the field of leadership and management in health and social care.  Professor Brown was asked by the government's Social Work Reform Board, established following the death of Peter Connelly, to develop a leadership pathway for social work managers.
This was extensively evaluated for impact and then adapted for healthcare in response to the Francis report at Mid Staffordshire Hospital.
The Centre was officially opened on 12th November by Bournemouth West MP Conor Burns, who said: "Too often in health and social work, organisations have become too immersed in process and procedure that they lose sight sometimes of the outcome.  We should be proud of what Keith and the team do in terms of outcomes for people… making a contribution emotionally and economically."
Sue Sutherland OBE, Chair of BU's Board and former Chief Executive of Poole Hospital, said: "The launch of this centre is really important.  It is absolutely rising to the challenges that the sector faces, helping to develop the best health and social care service that's borne out of leadership at every point of the sector."
CLiMB currently receives HEIF funding. Higher Education Innovation Funding aims  to support and develop a broad range of knowledge-based interactions between universities and colleges and the wider world, which result in economic and social benefit to the UK.