The wait is finally over. You can now start your application for the 2016 Marie Skłodowska-Curie Individual Fellowships. This call will close on 14 September 2016, 17:00 (Brussels time).
According to the Participant Portal:
The goal of Individual Fellowships is to enhance the creative and innovative potential of experienced researchers, wishing to diversify their individual competence in terms of skill acquisition through advanced training, international and intersectoral mobility.
Individual Fellowships provide opportunities to acquire and transfer new knowledge and to work on research and innovation in a European context (EU Member States and Associated Countries) or outside Europe. The scheme particularly supports the return and reintegration of researchers from outside Europe who have previously worked here. It also develops or helps to restart the careers of individual researchers that show great potential, considering their experience.
In RKEO, we have a schedule for the 2016 submissions. Once we know that that you are interested in submitting, we will keep you up to date with our activities. Just contact your relevant Faculty Funding Development Officer  to let them know that you plan to submit to this call. If you missed the introductory sessions that were held in December, BU staff can access the slides – MSCA 2016 v2. You may also wish to refer to the RKEO Guide to Fellowships.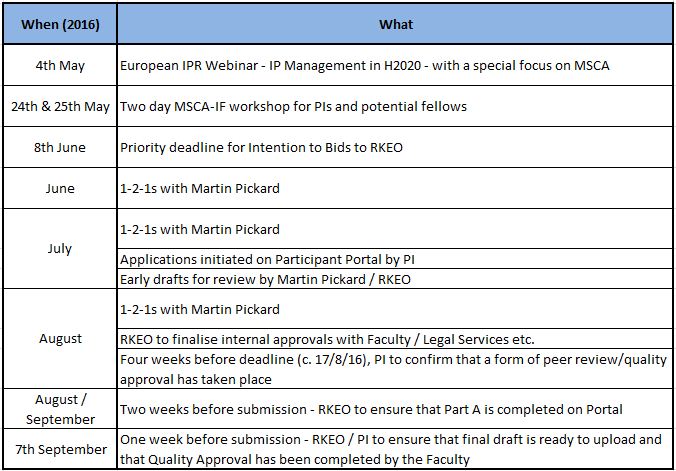 To book onto the internal two-day workshop, hosted by Dr Martin Pickard, on 24th and 25th May, please contact Dianne Goodman, Funding Development Team Co-ordinator in RKEO, as soon as possible. Places are limited. You should attend with your potential fellow, if possible. N.B. their travel to BU cannot be funded by RKEO. This workshop is, however,  free for BU staff and potential fellows.
There is a European IPR Webinar – IP Management in H2020 with a special focus on Marie Sklodowska Curie Actions – on 4th May 2016 at 09:30 in P402 for c. 75 minutes to include the webinar, Q&A with the presenter and time at the end for informal discussion with your peers.  Again, please contact Dianne Goodman, to reserve your place for this event. If you go to the external event page, do not register on this page as RKEO are already registered.
Contact Emily Cieciura, Research Facilitator: EU & International or the relevant Faculty Funding Development Officer for further help and support or if you have any queries or comments.