On 2nd June 2017 Ambrose Seddon (Creative Technology, EMERGE) premiered his new electroacoustic composition Traces of Play at the Klang! Électroacoustique music festival in Montpellier, France. The festival took place over five nights at Opéra Orchestre National Montpellier.
Ambrose's work was programmed and performed alongside many respected composers from the field of electroacoustic music. The composition was created for 4 channels of audio and was spatialised (diffused) live in concert over the 58-channel Klang! 'acousmonium' (loudspeaker system).
Initial work on the composition was carried out during two short residencies at Elektronmusic Studion (EMS), Stockholm with support from Creative Technology.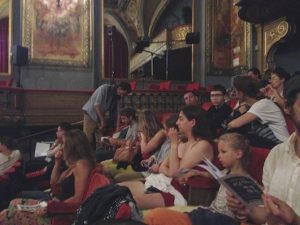 Ambrose Seddon is a lecturer in Music and Audio Technology at BU.