Most of you have probably heard/read about human milk banking by now from me or my previous posts, if not read here more about it. This week, I had the opportunity to meet Anita Holloway-Moger, the Human Milk Bank Nursery Nurse at the Princess Anne Hospital Human Milk Bank in Southampton.
It was a great opportunity to finally visit and see a milk bank and speak to the person responsible to gain more practical insight into human milk banking in the UK, instead of only reading about it for my research.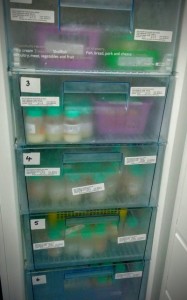 Human donor milk comes from mothers who have had several blood tests and is collected from the mothers' homes by the milk bank staff and/or the blood bikes. The frozen milk then gets processed in the milk bank, which means it is tested for microbiological contamination and pasteurised (heat treated) to make it save for the premature or sick babies to receive. This has been shown to increase their chance of survival and help their development.
Thank you Anita for taking all the time to answer my questions and for showing me around, as well as Bournemouth University for the funding which made my trip possible!

If you would like to find out more about human milk banking in the UK or want to become a human milk donor visit the UK Association for Milk Banking website at http://www.ukamb.org/.
If you would like to learn more about our research, please feel free to contact me at inessel@bournemouth.ac.uk
Isabell