The European Milk Bank Association (EMBA) (www.europeanmilkbanking.com) held its 4th International Congress in Glasgow in early October. After a civic reception from Glasgow's Mayor, at Glasgow's magnificent City Chambers, the conference started with a warm welcome from Scotland's Minister for Public Health and Sport.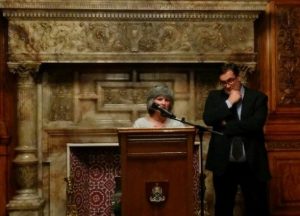 Debbie Barnett, Donor Milk Bank Coordinator of the Scottish Greater Glasgow and Clyde Donor Milk Bank, and Jean-Charles Picaud, President of EMBA, welcoming the conference attendants.
Although it was a European conference, attendants from 35 countries from all over the world exchanged their research results, knowledge, and experience about human milk banking, with the aim to support the health of (preterm) babies. One important topic of the conference was the research into better thermal treatment of donor human milk. (http://embacongress.it/documenti/Program20170920.pdf)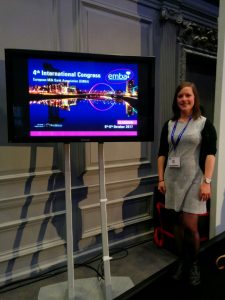 I presented the results of our national milk bank survey, which we conducted earlier this year. The study was the first national audit of human milk banking practices in the U.K. with the aim to protecting and preserving omega-3 and omega-6 long chain polyunsaturated fatty acids in donor human milk. The survey identified large variations in all practices of human milk banking, including, donor selection, transportation, and storage and handling of donor milk, and nutritional information provided for donors.
This conference was a perfect opportunity for me, to talk to the respondents of the audit, to present our results, and to network with potential collaborators to facilitate further research into donor human milk in the U.K.
Many thanks to EMBA for the invitation to present my research, to all the participants of the survey, and to BU for the funding to attend this conference.
If you would like to learn more about human milk banking in the U.K. please visit the UK Association for Milk Banking website http://www.ukamb.org/
If you would like to learn more about our research, please feel free to contact me at inessel@bournemouth.ac.uk
Isabell