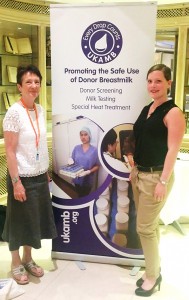 The UK Association for Milk Banking (UKAMB) recently held their annual training day in London (Picture: Isabell and UKAMB's Trustee Chair Ann McCrea). Mostly, milk bank staff were present; however, the training day is also open to anyone interested in human milk banking. Therefore, milk donors, medical researchers, midwives, neonatal nurses and clinicians were also in attendance. The presentations included current topics such as the Zika virus and the implications for milk banking, new guidance on decontamination of breast milk pumps and an update of ongoing research at donor milk banks.
As part of this, I presented my proposed donor milk bank survey, which is part of my PhD at BU. I received a great deal of helpful feedback and support from UKAMB and the audience. It was a great opportunity to get more insights into human milk banking and ongoing research in the UK and to network with potenital participants of the survey and possible future collaborators. Thanks to Bournemouth University for the funding, which made my attendance possible!
A big thank you also goes to Gillian Weaver and UKAMB for the invitation,

and this great, informative day! If you would like to find out more about human milk banking in the UK or want to become a milk donor visit UKAMB's website at http://www.ukamb.org/.
If you would like to learn more about our research, please feel free to contact me at inessel@bournemouth.ac.uk
Isabell