Are you an Early Career Researcher? Would you like the opportunity to develop the skills to tell the story of your research to new audiences?
Apply now for the AHRC and BBC Radio 3 New Generation Thinkers 2017 Programme.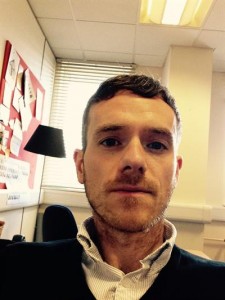 BU's Dr Sam Goodman is one of AHRC's New Generation Thinkers, having won the award last year. He features in this film from the Arts and Humanities Research Council (AHRC), which shines a light on the AHRC/ BBC Radio 3, New Generation Thinkers scheme.
This pioneering scheme aims to develop a new generation of academics who can bring the best of university research and scholarly ideas to a broad audience – through BBC broadcasting. Each year, up to sixty successful applicants have a chance to develop their programme-making ideas with experienced BBC producers at a series of dedicated workshops and, of these up to ten will become Radio 3's resident New Generation Thinkers. They will benefit from a unique opportunity to develop their own programmes for BBC Radio 3, the chance to regularly appear on air and work closely with the AHRC communications team.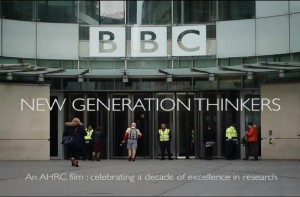 BBC Radio 3 and its programmes Free Thinking, the Verb, the Essay and the Sunday Feature have provided a platform for debate and commentary from scholars across the world. You could now join them on air.
Applicants do not have to be funded by the AHRC to apply; the scheme is open to all early career researchers based in a UK Research Organisation (either Higher Education Institution or Independent Research Organisation [IRO]).
They welcome applications from researchers working in all areas of the arts and humanities. This year they are again extending the call for researchers who work in areas of social sciences and medical science whose work intersects with the arts and humanities. Do you know a researcher who could benefit from this opportunity? Why not forward them this email and encourage them to apply or share a link on social media using the hashtag #newgenerationthinkers.
Closing Date: 26/10/2016
Applicants should be available to attend workshops:
Wednesday 11th January 2017, Salford
Monday 16th January 2017, London
Wednesday 18th January 2017, London
If invited to attend the workshops you will be offered a date at one of the three locations. Candidates will be invited to the workshops the week commencing the 12th December 2016.
Applicants that are successful at the workshops should be free to attend:
Wednesday 8th March 2017, for media training in London
The dates of the Gateshead Free Thinking Festival between Friday 17th March to Sunday 19th March as the winners will be announced during this period.
How to apply
Applications should be submitted using the Research Councils' Joint electronic Submission (Je-S) System at the latest by 4.00pm Wednesday 26th October 2016, and must go through the host organisation approval process prior to this closing date. Therefore, please contact your RKEO Funding Development Officer at least three weeks before applying.
Full details of the call can be found in the New Generation Thinkers 2017 Call Document (PDF, 265KB)
For complete terms and conditions please see the Conditions of Entry for New Generation Thinkers