Since the beginning of 2016, Dr Samuel Nyman (Psychology Department, and Bournemouth University Dementia Institute) has been funded 100% of his time for 3 years by the NIHR on a Career Development Fellowship. Part of the fellowship is to conduct a research project: "The TACIT Trial TAi ChI for people with demenTia".
The first external presentation about this project was on the 11th November 2015 as part of an ESRC-funded seminar series, Physical activity among hard-to-reach groups: Issues of research, policy and practice. That presentation was noticed by Haringey Council who have charged a scrutiny panel with the task of reviewing their strategy for increasing physical activity among older people in their borough. As part of this review, last week on the 13th October, Haringey Council invited Samuel, along with other colleagues from across charitable / higher education / private sectors, to present about the project. The project was met with much interest and contributed to a roundtable discussion on how to implement the current evidence-base into practice.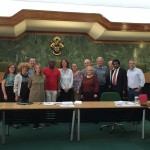 Dr Nyman and guests with the scrutiny panel, Haringey Council Chamber
The project is starting to recruit into its Pilot Intervention Phase, and will recruit into the randomised controlled trial phase in the spring of 2017. The trial results will be available in the autumn of 2018 before Samuel finishes his fellowship in December 2018.
For further information about the TACIT Trial, please see: