The TACIT Trial has a new professional video; please forward to anyone you know who has dementia or is a carer of someone with dementia who may be interested in taking part in this study: https://youtu.be/96Kyi_P7ngI.
Further information can be found below and by visiting the website  www.bournemouth.ac.uk/tai-chi.  A YouTube clip can also be seen with Dr Samuel  Nyman appearing on the BBC Radio Solent breakfast show and the breakfast team taking part in Tai Chi.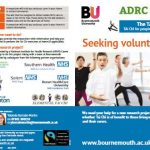 The TACIT Trial Team at Bournemouth University Ageing & Dementia Research Centre are looking for people living with dementia and their carers to take part in an exciting new study. For more information, please get in touch!
People with dementia and their informal carer will be helping with research to find out if Tai Chi is beneficial for people with dementia. All participants will be talking to researchers on a weekly basis and half will have the chance of getting to do Tai Chi. This study will be based in #Bournemouth #Ferndown #Christchurch #Dorchester #Poole #Romsey#Eastleigh #Portsmouth.
You can have a look at our flyer (https://goo.gl/vZzkWG) and our venues´ details (www.bournemouth.ac.uk/tai-chi).
If you want to get involved, please contact Yolanda Barrado-Martín by:
· E-mail: ybarradomartin@bournemouth.ac.uk
· Telephone: 07801890258
· Facebook #TheTACITTrial: Fill out our questionnaire (https://goo.gl/forms/WA5mk2vR8m9qWw0K2) with your contact details and we will get back to you!