Telling a story of research through photography
The 'photo of the week' is a weekly series featuring photographs taken by BU academics and students for our Research Photography Competition which took place earlier this year.
These provide a snapshot into some of the incredible research taking place across the BU community. 
This week's photo of the week was taken by Samuel Nyman and is titled;
'The TACIT Trial: TAi ChI for people with dementia'
'This photo is taken from a Festival of Learning event in 2018 for the TACIT Trial here on BU campus. After PhD students Yolanda Barrado-Martín and Iram Bibi presented on the study, the audience got to try out Tai Chi for themselves! The class was led by senior instructor Robert Joyce, from Elemental Tai Chi. For the trial, we have been delivering Tai Chi classes all across Wessex: Dorset, Romsey, and Portsmouth. The venues ranged from leisure centres, church halls, to NHS sites. Though Tai Chi can be practised anywhere. Indeed, many have seen images of crowds of people practising Tai Chi in public parks in China! The TACIT Trial is a study investigating the benefits of Tai Chi for community-dwelling people with dementia and their informal carers.
We hope to show that it improves balance to help prevent falls and improves the quality of life of those with dementia and their carers who come to the classes with them. This project is funded by the National Institute for Health Research (NIHR) through a Career Development Fellowship awarded to Dr Samuel Nyman'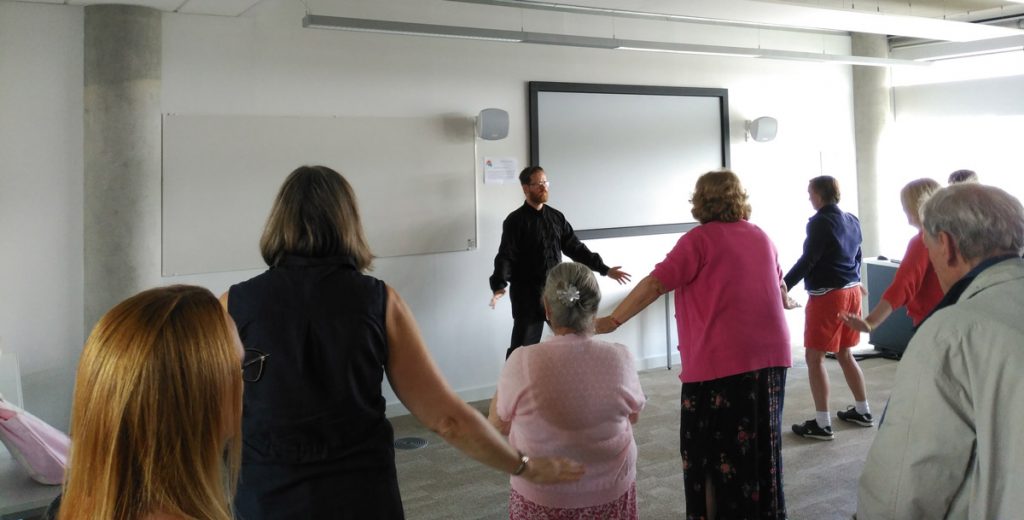 If you have any questions about the Photo of the Week series or the Research Photography Competition please email; research@bournemouth.ac.uk