PalaeoGo! is a project funded by Bournemouth University (BU) via its Higher Education Innovation Fund (HEIF) that aims to show how augmented reality (AR) can be used as an educational tool at natural history museums, national parks and in any open space or landscape. We have developed a test app to explore different ways of delivering AR content focused on extinct megafauna, everything from Jurassic dinosaurs to Ice Age mammoths. Augmented reality uses the camera feed in a smartphone and overlays it with information, in our case to bring extinct megafauna to life! Take your selfie with a T-Rex, swim with a Mosasaur and Megalodon, or if you prefer walk with an Ice Age mammoth.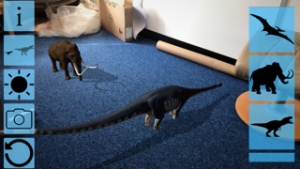 The PalaeoGo! Team is running a major user trial in the autumn of 2018.  Over eight weeks this autumn we are seeking your help to both test and develop our ideas.  Our aim is to give you access to our test app and with it the resources for you to use with your friends and family.  The beasts are coming, and you can join in the fun!
To join the trial, you need to visit our website and leave details of your phone and a live email address.  You will also find a Participant Information Sheet and Participant Agreement Form which gives you more details on the study. We seek your consent to use your feedback anonymously in our work, and to keep on file your email for the duration of the trial.  We will contact you directly with everything you need for your smartphone.  This will be either via our own PalaeoGo! Test App or via the commercial App Zappar depending on the make and model of your phone.  We may ask some 'super-users' to explore both.
Register by the 21 September 2018 and you will receive the app during the week of the 24 September 2018.  We will be on hand during Fresher fair and Induction to sign you up and show you how.
The first update will roll on the 1 November 2018 and the trial will end on the 30 November 2018 when we will ask you for feedback.
We ask you to link your selfies and images and tweets using @Palaeo_Go  – no need to wait till the end of the test to tell us what you think and to help shape our ideas.
This project is an interdisciplinary collaboration between computer animators, computer scientists and natural scientists.  The project is led by Peter Truckel, Marcin Budka and Matthew Bennett.