Happy New Year!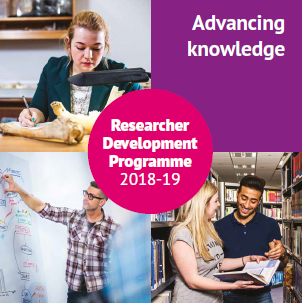 The Doctoral College: Researcher Development Programme would like to present its first monthly update of 2019. The RDP is still here for all PGRs and we have over 80 expertly facilitated workshops coming up between now and August to support your research journey and future career endeavours.
As part of this I am still offering RDP Brightspace training to support navigation around the unit to allow you to optimise its offerings.
As part of the RDP PGRs also have access to the UEA webinar series and the brand new Video Arts videos and e-learning courses.
If you are a PGR or PGR Supervisor and do not have access to the Researcher Development Programme please contact me and I will add you.
To stay up-to-date with regular announcements:
Download the free 'Brightspace Pulse' app.
Subscribe to notifications on the RDP Brightspace.
Like the Doctoral College Facebook page for regular news and information.
Look out for the Monthly Update for Researcher Development in your inboxes at the beginning of each month.