Poster Exhibition | The 12th Annual Postgraduate Research Conference 
Debora Almedia, PhD student in the Faculty of Health & Social Sciences with this poster entitled:
Is there a difference between dominant and non-dominant hand performance during simulated infant cardiopulmonary resuscitation (iCPR)?
Click the poster below to enlarge.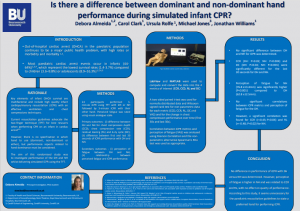 Randomised study to compare two-finger technique (TFT) using dominant (DH) and non-dominant hand (NH) during simulated iCPR. Materials/methods: 24 participants performed 3-minute iCPR using the TFT with DH or NH followed by 3-minute iCPR with their other hand. Perceived fatigue rated using visual analogue scale (VAS). Results: No significant difference between DH and NH. However, perception of fatigue for NH (76.8 ±13.4) was significantly higher (p <.001) compared to DH (62.8 ±12.5). No significant difference between first and last 30 seconds of iCPR for DH and NH. No significant correlations between iCPR and perception of fatigue for DH. However, significant correlation for CR (r=0.43; p=0.040) and RL (r=-0.48; p=0.021) for the NH. Conclusion: No difference in performance of iCPR with DH versus NH. However, perception of fatigue is higher in NH for CR and RL. Guidelines could recommend rescuers to change hands every 2 min to reduce effects of fatigue on
performance.
You can view the full poster exhibition on the conference webpage.
---
If this research has inspired you and you'd like to explore applying for a research degree please visit the postgraduate research web pages or contact our dedicated admissions team.