Poster Exhibition | The 12th Annual Postgraduate Research Conference 
Carrie Tbaily, MRes student in the Faculty of Health & Social Sciences with this poster entitled:
Exploring caregiver perspectives of adults with Severe or Profound and multiple Learning Disabilities Accessing Sedentary Hydrotherapy (SPLASH study)
Click the poster below to enlarge.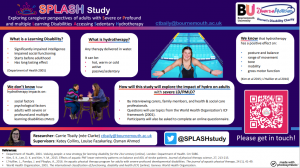 The term Learning Disability (LD) defines people with significant impairment in cognition and social functioning. Physical disability in LD is largely neurological. Previous neuro-hydrotherapy studies have adopted a medical model of disability. Taking a singular medical/social approach to LD research omits significant elements of impairment that these adults experience. The biopsychosocial model is therefore the most appropriate approach in regards to LD research. Through asking how caregivers perceive hydrotherapy to impact on the needs of adults with severe/profound LD, this mixed-methods pragmatist study seeks to explore caregiver experience, and identify any health/social care impacts. Using component design, caregiver experiences will be explored through thematic analysis of data gathered from in-depth semi-structured interviews and questionnaires. The themes explored through this study may help to better inform caregiver decision making in relation to hydrotherapy care-plans, and any biopsychosocial impacts highlighted could form the foundation for future studies to further explore/quantitatively measure.
You can view the full poster exhibition on the conference webpage.
---
If this research has inspired you and you'd like to explore applying for a research degree please visit the postgraduate research web pages or contact our dedicated admissions team.