Poster Exhibition | The 12th Annual Postgraduate Research Conference 
Chloe Casey, PhD student in the Faculty of Health & Social Sciences with this poster entitled:
Initiatives to promote the wellbeing of postgraduate researchers at Bournemouth University.
Click the poster below to enlarge.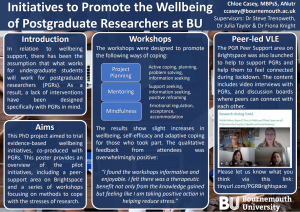 In relation to wellbeing support, in the past there has been the assumption that what works for undergraduate students will also work for postgraduate researchers (PGRs). As a result, a lack of interventions published in the literature have been designed and evaluated specifically with PGRs in mind. Due to this, universities have previously embedded support provisions that may not have been relevant for PGRs. There is a need to investigate the type of interventions that will be best aligned to the specific needs of PGRs. Therefore, this Doctoral College supported PhD project aims to design, trial, and evaluate evidence-based initiatives that are co-produced with PGRs. This poster provides an overview of the initiatives that have been trialled as part of this project, including a peer-support area on Brightspace and a series of workshops (project planning, mindfulness and mentoring) focusing on methods to help PGRs cope with the stresses of research.
You can view the full poster exhibition on the conference webpage.
---
If this research has inspired you and you'd like to explore applying for a research degree please visit the postgraduate research web pages or contact our dedicated admissions team.