Poster Exhibition | The 12th Annual Postgraduate Research Conference 
Natalie Stewart, PhD student in the BU Business School with this poster entitled:
Promoting a positive and cohesive research culture for postgraduate researchers.
Click the poster below to enlarge.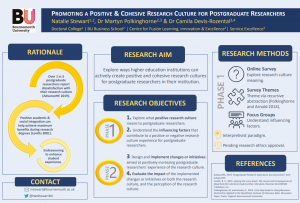 Research culture is thought to be a substantive influencer in the overall student experience for postgraduate researchers (PGRs) in the UK Higher Education sector. In consecutive AdvanceHE Postgraduate Research Experience Survey (PRES), findings highlight over a third of responding PGRs are expressing dissatisfaction with their experience of the research culture at their own university (AdvanceHE 2019). Research culture is reported to be less positively experienced in seven core areas measured which includes, supervision, resources, progress and assessment, responsibilities, research skills and professional development. The aim of this research is to explore ways in which higher education institutions can actively create and influence more positive research cultures for their PGRs, who are working across a wide range of potential discipline areas. This poster outlines the rationale for this research and anticipated approach.
You can view the full poster exhibition on the conference webpage.
---
If this research has inspired you and you'd like to explore applying for a research degree please visit the postgraduate research web pages or contact our dedicated admissions team.