The 13th Annual Postgraduate Research Conference, hosted by the Doctoral College.
Rabeea Maqsood (PhD, FHSS) with this poster entitled: The association between Combat Related Traumatic Injury and Heart Rate Variability in the UK Armed Forces Personnel and Veterans- a quantitative secondary data analysis of the ADVANCE study.
Click the poster below to enlarge.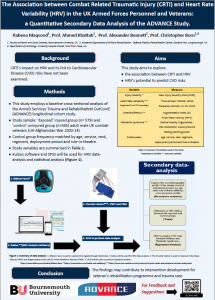 CRTI's impact on HRV and its link to Cardiovascular Disease (CVD) risk have not been examined. This study aims to explore: the association between CRTI and HRV, and HRV's potential to predict CVD risk. This study employs a baseline cross-sectional analysis of the ArmeD SerVices TrAuma and RehabilitatioN OutComE (ADVANCE) longitudinal cohort study, consisting of 579 adult male UK combat-veterans (UK-Afghanistan War 2003-14) with CRTI; frequency-matched to 565 uninjured men by age, service, rank, regiment, deployment period and role-in-theatre. Measures include single-lead ECG based HRV (RMSSD, SDNN, LF, HF, LF/HF-5-min ECG recordings), arterial stiffness (augmentation index, pulse wave velocity), injury-severity (NISS scores), and metabolic syndrome. Kubios software and SPSS will be used for HRV data-analysis and descriptive tests, respectively. CRTI's influence on HRV and its relationship to CVD risk will be examined using T-tests and correlation. The findings may contribute to intervention development for veteran's rehabilitation programme and trauma care.
---
You can view the full poster exhibition and pre-recorded presentations on the conference webpage.
If this research has inspired you and you'd like to explore applying for a research degree please visit the postgraduate research web pages or contact the Doctoral College dedicated admissions team.