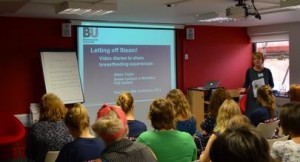 Congratulations to Alison Taylor, senior lecturer in midwifery who presented preliminary findings of her PhD as keynote speaker last month at the Cornwall  Real Baby Milk conference.  Alison's presentation 'Women's Breastfeeding Experiences – shared using video diaries' was very well received.  Alison's fieldwork has been supported by the Iolanthe Midwifery Trust , she received the first Tricia Anderson award in 2008. Founded in 1983, the Trust supports midwives and student midwives to undertake further education and to carry out projects designed to improve the care of mothers and babies.
More details on the conference can be found at:
http://realbabymilk.org/couldnt-make-real-baby-milk-cornwall-conference-last-month/
Congratulations!
Prof. Edwin van Teijlingen
Centre for Midwifery, Maternal and Perinatal Health (CMMPH)