We have some great events coming up over the next few weeks to help support you in your research activities. These events are delivered as part of the overarching Research and Knowledge Exchange Development Framework –  RKEDF.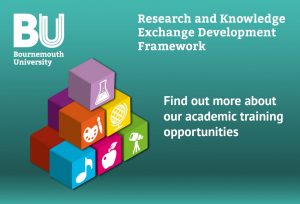 Wednesday 4th September:
Introduction to Research Data Management and Open Data,
11:00 – 13:00 on the Talbot Campus
For any academic or PGR who wishes to develop their Research Data Management (RDM) best practice.
Thursday 5th September:
Research Output Writing Day
09:00 – 17:00 at a Bournemouth venue
For BU authors to work on their research outputs, free from everyday distractions and with a collaborative focus on productive writing with other BU authors.
Tuesday 10th September:
British Academy Visit
11:00 – 14:00, Talbot Campus, Fusion Building, FG04
Members from the British Academy will provide an overview of the British Academy, the type of funding offered, their grant-awarding processes, key considerations and short presentations from current award holders.
Thursday 12th September:
GCRF Best Practice Workshop
09:30 – 16:00, Talbot Campus, Fusion Building, FG04
The GCRF Panel invites academics involved, or wishing to be involved in ODA related research projects to a one–day workshop/'wash-up' to review best practice, identify future synergies and to highlight common issues and challenges confronting GCRF projects at the University.
For booking and more information contact RKEDF.
On the RKEDF intranet page, training events have been grouped around your needs, so if, for example, you are an Early Career Researcher or need to know about external funding, you can click on the link to find a tailored list of all the RKEDF sessions that may assist you. You can also find related events by using the link on each session's page.
You can also see all the Organisational Development and RKEDF events in one place on the handy calendar of events.
Please note that all sessions are now targeted, so look closely at the event page to ensure that the event is suitable for you. In addition, many RKEDF events now require the approval of your Head of Department (or other nominated approver). Please follow the instructions given on the event page and the template email for you to initiate the booking request.
If you have any queries, please get in touch!