On 9 September, we held our fourth annual Carers' Forum. Our Carers' Forum provides an opportunity to hear from local people who are caring for people with dementia on what matters most to them. We were also delighted to welcome Vivien Zarucki, Independent Financial Advisor, as our guest speaker who discussed the financial aspects of caring for someone living with dementia. Alison Adams, Information Worker from the Alzheimer's Society, was also on hand to provide attendees with details about local support for people affected by dementia.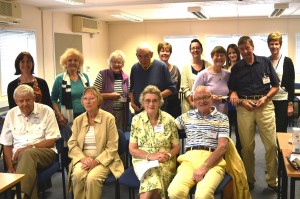 In a parallel session, people with dementia participated in a range of activities (including using technology such as IPads), and talked to the team about what it's like living with dementia locally.
Feedback following the event suggests that attendees welcomed the opportunity to share their views and experiences:
"Thank you so much for the whole experience. Once again we are very blessed with the care and encouragement we receive".
"Many thanks to all that helped arrange the day, the person we care for enjoy meeting others who are in the same situation as themselves".
"It was good to exchange ideas. People always know something you don't".
These views and experiences will enable us to focus our research, education and consultancy services around the issues that matter most to people who are affected by dementia.