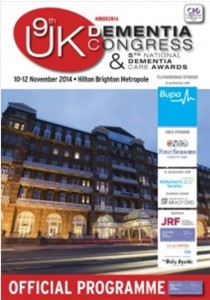 Dr Michelle Heward, Ben Hicks and Sophie Bushell represented the Bournemouth University Dementia Institute (BUDI) at this year's National Dementia Congress in Brighton between the 10th and 12th November. This is the UK's 9th Dementia Congress, organised and hosted by the Journal of Dementia Care. The Congress attracted professionals from a vast array of backgrounds from artists and architects to nurses and social care commissioners with over 200 individuals presenting their work during the event. Highlights amongst the spoken presentations included a fantastic and very moving presentation by people living with dementia and their carers from the Dementia Engagement and Empowerment (DEEP) group and Carers Call to Action and the keynote address by Dr Stephen Judd entitled 'Making Change Happen'.
For BUDI, additional highlights were the two presentations delivered by our very own Dr Michelle Heward who reported on two of her most recent projects:
The Dorset Dementia Friendly Communities (DFC) Project Evaluation – reporting on the findings of an evaluation of the first year of activity in the seven localities of the Dorset DFC initiative and exploring how far the Dorset DFC project was able to contribute towards assisting people with dementia to be able to feel supported within their community, and have choice and control of their lives. Click here for the full evaluation report.
The Social Care and Support Needs of Adults with Concurrent Dementia and Visual Impairment – the aim of the project was to investigate how best to provide care and support for adults living with both conditions in a range of housing settings, and develop evidence-based practice guidance to improve social care and support. Click here for more information about this project.
In addition to the speakers there were numerous stands with information about products and services designed to support people to live well with dementia, poster presentations and additional attractions. The most popular of these appeared to be a cookery demonstration by Peter Morgan-Jones demonstrating a technique to improve nutrition and enjoyment of food for people who have difficulties swallowing.  
Two of the most delightful things about this Congress were the number and variety of individuals who were clearly passionate about making positive impact upon the lives of people with dementia and those who care for them and the breadth of innovative interventions designed to achieve this. For more information about this event please click here.
Sophie Bushell, PhD student, BUDI