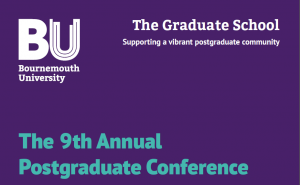 The BU Postgraduate Annual Conference, Wednesday 8 March 2017  showcases the best of BU's postgraduate research. It provides a unique opportunity for Postgraduate researchers and Masters' students to present their work.
Call for Abstracts is open from 24 October 2016 Closes: midnight, 24 November 2016
Abstracts are invited for oral, poster and photography presentations from Postgraduate Research and Taught students at any stage of their degree. Please download and complete the Abstract Form with reference to the guidance notes for Oral, Poster and Photography presentations. Visit www.bournemouth.ac.uk/pg-conference for further information.
Please note, the number of oral presentations is limited and therefore the selection process is competitive – abstracts will be shortlisted by a Faculty academic panel and you will be advised if your abstract has been successful 2 weeks after the deadline date.