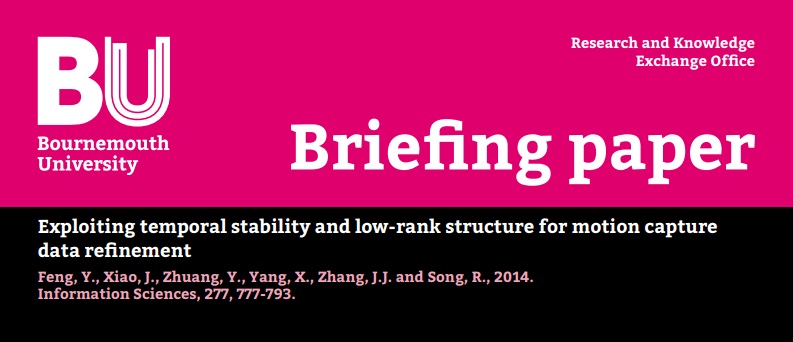 Our BU briefing papers are designed to make our research outputs accessible and easily digestible so that our research findings can quickly be applied – whether to society, culture, public policy, services, the environment or to improve quality of life. They have been created to highlight research findings and their potential impact within their field. 
---
In recent years, motion capture data (mocap) have been widely used in computer games, film production and sport sciences. The great success of animated and animation enhanced feature films, such as Avatar, provide compelling evidence for the values of mocap techniques. However, even with the most expensive commercial mocap systems, there are still instances where noise and missing data are inevitable.
This paper examines the motion refinement problem and presents an effective framework to solve it, demonstrated by extensive experiments on both synthetic and real data. The experiment shows that the proposed method outperforms all competitors not only in predicting missing values but also in de-noising most of the time.
Click here to read the briefing paper.
---
For more information about the research, contact Dr Xiaosong Yang at xyang@bournemouth.ac.uk or Professor Jian Jun Zhang at jzhang@bournemouth.ac.uk.
To find out how your research output could be turned into a BU Briefing, contact research@bournemouth.ac.uk.