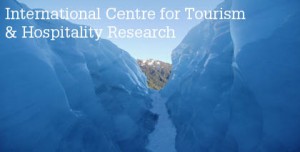 For creating synergies within the School of Tourism and the eTourism Lab, as well as introducing cutting edge research topics we invite you to the eTourism Research Festival taking place on
Wednesday the 16th January 2013 from 1400 – 1700 pm, in Kimmeridge House, K 103.
The event is also an occasion to meet as a team and to welcome new students and researchers. PhD researchers will present and discuss their work as a preparation of the upcoming ENTER 2013 and maximise team synergies.
Please inform your students and colleagues to join!  All welcome
Presenter

Topic

Time

Prof Dimitrios Buhalis
Opening Presentation and Welcome

2.00 – 2.15 pm

PhD Presentations – Agile Marketing
Nicolas Gregori
The service of now: innovative service marketing delivery using social media networking

2.15 – 2.30 pm

Vicky Loi
The role of eWOM on online reputation 

2.30 – 2.45 pm

Liz Bouten
The relevance of social media when generating international awareness for a conference: case of IFITT

2.45 – 3.00 pm

 

Ivana Rihova
Consumers as producers: the dimensions of consumer-to-consumer co-creation in the event experience

3.00 – 3.15 pm

Break (15min)
PhD Presentations – Technology Enabled Experience
Barbara Neuhofer
Technology enhanced tourist experiences: a holistic exploration of how technology can enhance tourist experiences

3.30 – 3.45 pm

Philip James
Towards a psychological model for understanding active seniors: engagement with online media in their holiday purchases

3.45 – 4.00 pm

Zornitza Yovcheva
User-centred design for smartphone: context-aware augmented reality applications in tourism

4.00 – 4.15 pm

Jessika Weber
Augmented reality gaming: a new paradigm for tourist experience?

4.15 – 4.30 pm

Prof Dimitrios Buhalis
Future Research Projects, Publication Opportunities and Discussion

4.30 – 5.00 pm
20:00-late  meet for social drinks and informal dinner in Slug & Lettuce Bournemouth afterwards!