The precarious situation of migrant workers engaged in building the football stadiums in Qatar has been well documented.  It was brought to the fore during the FIFA Men's Football World Cup.  Their working conditions as well as their living conditions are often very poor.  During the games the Qatar World Cup's chief executive, Nasser al-Khater reportedly made the rather flippant comment: "Death is a natural part of life, whether it's at work, whether it's in your sleep." Begum and Worden see this as part of Qatar's shameful government attitude towards the often preventable deaths of migrant workers, which in their view is reflected in the authorities' failure to investigate the thousands of migrant worker deaths since 2010. [1]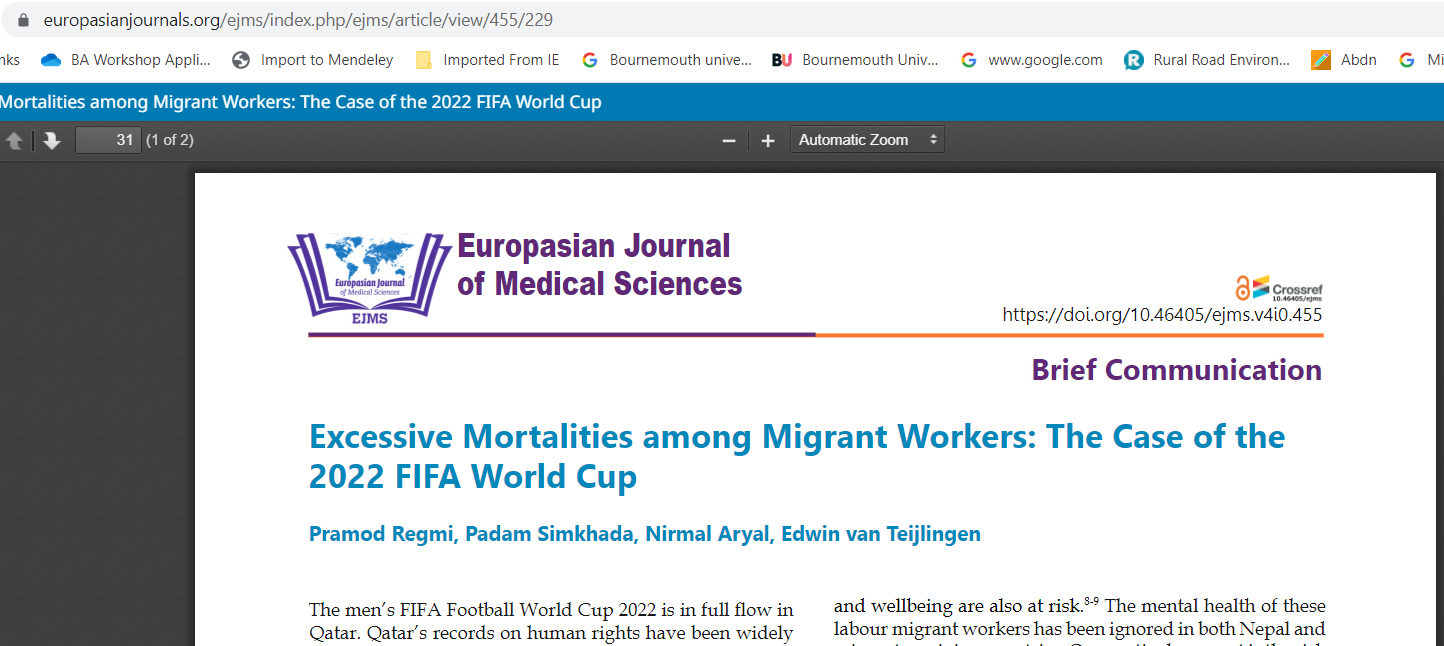 Today Dr. Pramod Regmi, Dr. Nirmal Aryal, Prof. Edwin van Teijlingen, and BU Visiting Professor Padam Simkhada published 'Excessive Mortalities among Migrant Workers: the Case of the 2022 FIFA World Cup' appeared in print [12].  At the time of submission to the Europasian Journal of Medical Science we wrote "The men's FIFA Football World Cup 2022 is in full flow in Qatar" [2], but, of course, it has finished with a very exciting final between Argentina and France.  Even with a fast review and acceptance process there was no chance that our 'Brief Communication' was going to be published during the World Cup.  The delay, however, gives us the opportunity today to remind our readers of the need to keep the plight of migrant workers in the Middle East on the world's agenda.
The FIFA World Cup brought these poor conditions and exploitation of foreign workers in the Middle East to the world's attention.  However, there is a great risk that the attention of the world, including that of campaigners, pressure groups, the media, politicians, and so on moves on to the next 'hot' topic. [3]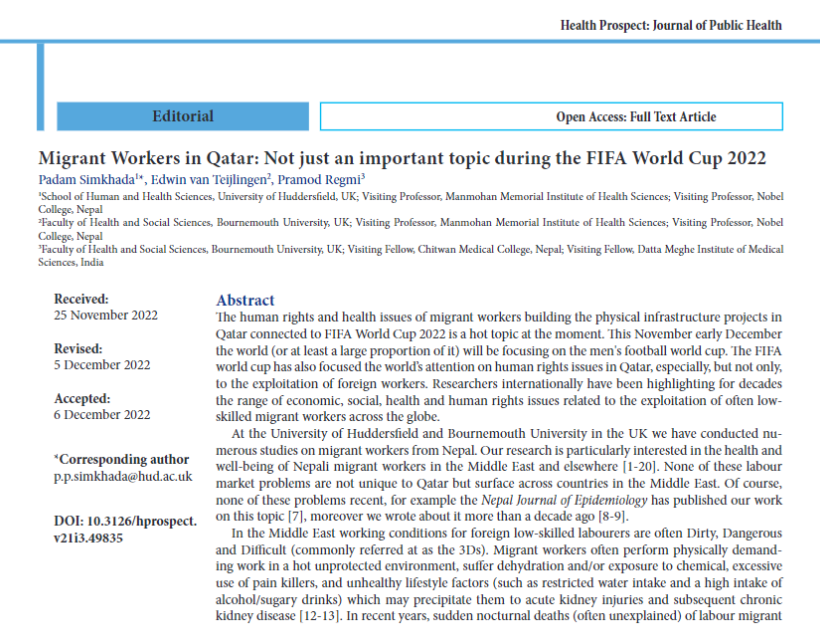 References:
 Begum, R., Worden, M. (2022) Qatar and FIFA's Callous Response to a Migrant Worker's Death. Migrant Workers, Their Families Should be Compensated for Abuses, Human Rights Watch News, December 8, 2022 7:26PM EST
Regmi, P., Simkhada, P., Aryal, N., van Teijlingen, E. (2022) Excessive mortalities among migrant workers: the case of the 2022 FIFA World Cup. Europasian Journal of Medical Sciences, 4:31-32. https://doi.org/10.46405/ejms.v4i0.455
Simkhada, P., van Teijlingen, E., Regmi, P.R. (2022). Migrant Workers in Qatar: Not just an important topic during the FIFA World Cup 2022. Health Prospect, 21(3):1-2. https://doi.org/10.3126/hprospect.v21i3.49835