On May 19, BU researchers in the Centre for Comparative Politics and Media Research | Bournemouth University, Alina Dolea, Tabitha Baker and Dawid Pekalski, are organizing an interactive knowledge exchange workshop with local stakeholders to facilitate sharing of experiences and best practices in supporting refugees, asylum seekers and migrants in Dorset.
Academics researching issues of displacement and forced migration across BU will be joined by representatives from Dorset Council, BCP Council, Citizen advice, Public Health Dorset, International Care Network, British Red Cross, Migrant Help UK, Dorset Race Equality Council, as well as other local groups and stakeholders.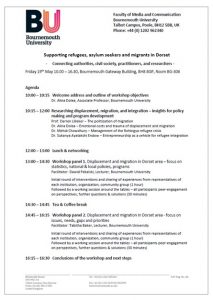 One objective of the workshop is to understand the dimensions of displacement and migration in the BCP and Dorset area, mapping the programs run, but also the issues faced by the councils and the different organisations in their work with refugees, asylum seekers and other migrant communities. Another objective is to understand, also from the beneficiaries' perspective, their needs, gaps and current issues they are facing. Together we aim to get to know more about each other's work, discuss and reflect on the national and local policies, programs, networks of support and integration that are in place.
Our overall goal for the day is to identify areas of collaborations so that we as academics and researchers can help and actively contribute to the current infrastructure of support and integration. The collaboration can range from volunteering and exploring placement opportunities for our students, co-creating projects, and organizing joint events, to delivering applied workshops and trainings, as well as providing research insights to inform policy making.
More details about the workshop are available here: Supporting refugees, asylum seekers and migrants in Dorset Tickets, Fri 19 May 2023 at 10:00 | Eventbrite