Dr Heaslip, Dr Green, Stephen Richer (Nursing Science) and Dr Huseyin Dogan (SciTech) with Dr Simkhada (Visiting Faculty) have recently published a paper Use of Technology to Promote Health and Wellbeing of People Who Are Homeless: A Systematic Review examining current published literature around the subjects of homelessness, mobile technology usage and its impact on health.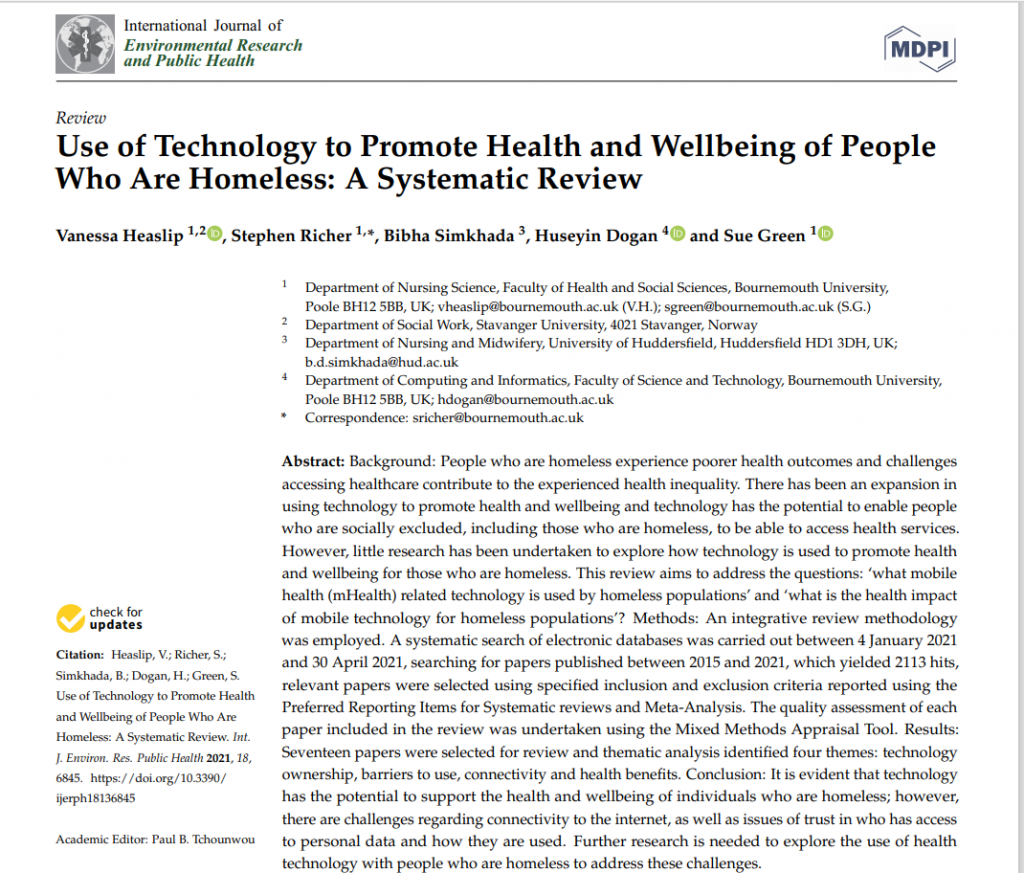 The review noted that literature indicated that whilst a large percentage of people who are homeless owned a mobile phone or smart phone (around 80%). There were many barriers to the use of mobile technology when you are homeless and these include: physical damage to phones, theft, inability to charge phones, lack of data and the limited availability of Wi-Fi connections. The health impacts of mobile usage are largely associated with 'social connectedness'. This not only included staying in touch with family and friends but also maintaining a connection to popular culture, social media, news, music and films. Current research indicated that this sense of social connection was considered of high importance by individuals who are homeless. As well as a social connection, people who are homeless found technology as having other potential health benefits, such as signposting to available support,  reminders for appointments, prompts for taking medication, health information and online health advice.
Going forward, we are currently analysing data from an extensive 100 participant, 29 item questionnaire that has been carried out with people who are homeless locally as well as analysing  qualitative data from focus groups and one to one interview (n=16 participants). This arm of our research aims to assess the availability, accessibility and utility of services for people who are homeless in the local area as well as further exploring the opportunities and challenges in utilising  mobile phones to access health and social care services. Results will be published in due course and detailed in our next blog.