I love reading about research and one of the publications that is on my lunch-time reading list is research*EU. This publication brings together short summaries of projects funded by the EU. One thing which often comes to mind is how often I see research that is relevant to BU's research areas. Each of the summaries has a link to the CORDIS (Community Research and Development Information Service) record for the project which gives access to publicly available reports, articles and, importantly, the project partners. As of July 2015, this now includes information regarding Horizon 2020 projects.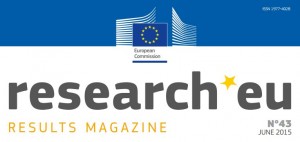 Here are some examples from the current edition, with a focus on Seas and Oceans: Studying earth's final frontier, that are relevant to BU:
Why not take a look at projects on CORDIS so that you can focus your academic network development on the key players in your field? Can you take a project forward to the next level?
CORDIS is not just a record of existing projects, though. You can also search for partners, advertise your area of expertise to others or find partners in a particular location. There is also a News and Events section for you to explore.
You can find out more about CORDIS via YouTube videos: