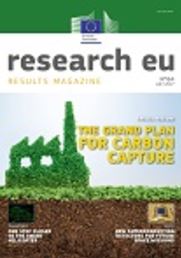 The European Commission publishes a monthly round-up of research project results – research*eu
The July feature is – The Grand Plan for Carbon Capture
This month the highlights pertinent to BU include:
If you have an EU funded project coming to an end, with results to share, why not think about sharing this? Get in touch with the editorial team to request an article, free of charge, as part of the European Commission's support for dissemination and exploitation of research results.
Copies of this magazine are placed in the Talbot Campus Staff Centre  – for reference only, as copies are limited.