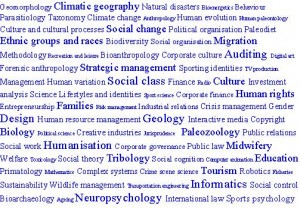 A couple of weeks ago I added version 3 of the BU research ontology to the blog and asked for your advice as to whether this adequately reflected the breadth of your disciplines and expertise (see BU's keywords for research – is everything included?). Thank you to everyone who responded to this – all of your comments and suggestions have been incorporated into version 4.
Rather than using the rigid 3-level structure, Version 4 includes the first attempt of mapping the keywords to the four broad areas of:
Business & Management
Media & Culture
Health & Society
Science & Technology
These areas will then map to the 8 emerging BU research themes. The aim of this is to provide a more flexible ontology that is adaptable to the complexities of inter- and multi-disciplinary research and that can be used to make relationships between people and disciplines (and therefore news stories, projects, outputs, etc) internally and also via the new external research webpages.
You can access Version 4 here: Research ontology v4
We're very interested in your feedback as to whether the mapping in Version 4 is fit for purpose or whether any changes need to be made. Please add your comments to this post by Friday 2 September 🙂
Thanks to Katarzyna Musial for her help in visualising how this could work.