In May/June there was some discussion on the blog about developing keywords for research (research ontology/vocabulary/taxonomy) which would be used to classify BU research in future.
See previous blog posts here: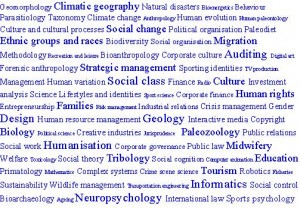 Looking to the future the finalised ontology will be extremely important in structuring how research at BU is presented, internally and externally, particularly on the external research webpages and the directory of expertise.
Responses received via the Blog indicated that the Science-Metrix ontology was too broad and that the Library of Congress ontology was too granular, so it seems that neither is a perfect fit for BU.
Using the Library of Congress ontology as a starting point we have worked with the Deputy Deans (R&E)/equivalent, Research Centre Directors and UOA Leaders to list the key specialisms applicable to BU. The resulting list is now available – you can read this by following the link below:
We need to finalise the list by 19 August 2011. But before we finalise the list we'd very much appreciate your advice as to whether these keywords adequately cover your disciplines. If you'd like to suggest any changes to the list please could you add a comment to this post by 19 August?
In addition we are interested to know whether the proposed level structure is useful or whether one list of keywords would be preferable? Let us know your views by commenting on this post!