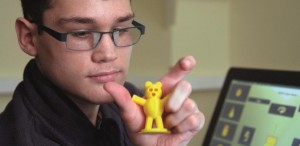 The SHIVA Project has received Higher Education Innovation Funding (HEIF) that runs for 12 months from August 2016 until July 2017. (HEIF 5+1+1.)
The HEIF funding will be critical in terms of supporting the development of networks locally, nationally and beyond. The key aims will be to link user groups and stakeholders in education, health and wellbeing related to children, young people and adults, through the creative digital innovations offered by the SHIVA project.
This project which brought innovative virtual sculpting tools to children with complex disabilities, enabling them to partake in creative digital activities from which they had previously been excluded was recognised in the Time Higher Awards last November winning the Outstanding Digital Innovation in Teaching or Research Category.
Originally the SHIVA project on 3D modelling and 3D printing for young people with disabilities was funded by the EU Interreg programme with the duration from 2010 to 2015.
The original project team worked with the Victoria Education Centre (VEC) in Poole.  As the project ended in 2015, it was clear there was scope to take this project beyond the initial funding and the SHIVA project has successfully been awarded impact acceleration funding and more recently HEIF funding.
A new Research Assistant, Michelle Wu, an NCCA graduate (2016), is the latest member to join this team. Michelle will be involved in turning the SHIVA system into a deployable product with proper installation, configuration and usage instructions. This area of work will help make SHIVA accessible to all potential users in the UK and further afield and strengthen the potential for developing networks that will benefit from this award winning technology.
For more information on this project contact Alexander Pasko or Oleg Fryazinov within the Faculty of Media and Communication.
Jayne Codling within RKEO co-ordinates the HEIF project portfolio for BU. Feel free to contact Jayne if you have any questions regarding HEIF at BU or knowledge exchange activities including business engagement and innovation funding.