Well it's only three days to go before BRIAN goes live and it's a hive of activity at this end.  You can see the latest video on the benefits of building an online profile:
httpv://www.youtube.com/watch?v=Kz9o9eDQRKA
One of the many benefits of BRIAN is that you can refine your 'search' settings to find new publications for you to approve.  You should only need to do this once but you can tweek your 'search' settings at any time.  Here are some basic instructions on how to refine your search once BRIAN goes live:
Click on 'search settings' in the 'my elements' menu.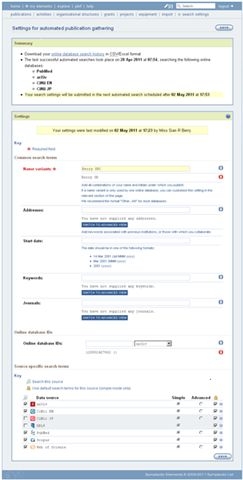 Under 'Name Variants' add all combinations of your name and initials under which you publish.
Under 'Addresses' you can add previous institutions or those which you collaborate with.
If your name is popular, e.g. John Smith, you may wish to add a 'Start Date' or 'Keywords' to restrict the search.  This will be most beneficial to new academics who go by the name 'Albert Einstein'.
 BRIAN is linked to several data sources from which it imports publications.  If you have an ID with a data source, e.g. Web of Science, you will be able to enter this so that the data source specifically sends your publications through against that ID only.  More details will be available on this in the 'Quick Start Guide' when BRIAN goes live.
Stay tuned for more news tomorrow.