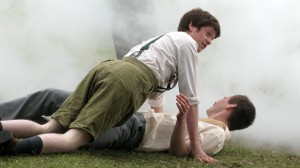 Rufus Stone  has just scooped two awards at the prestigious Rhode Island International Film Festival in the USA, the only short to win in two categories at the festival:  the Grand prize in the Alternative Spirit category and the Youth Jury Award for best GLBT film at the festival.
The Rhode Island International Film Festival consisted of six days and nights of screenings, meetings and greetings featured more than 200 films selected from more than 4,000 entrants.
The Youth Jury is a programme that introduces youth to the world of independent film. The youth attend multiple screenings during the Festival, Q&A's, and festival events. Their goal is to deliberate, and choose a Best Feature, Best Documentary, and Best Short to receive the Youth Jury award.
Just few reactions to Rufus Stone from audience members at earlier screeings:
"Critically the authenticity of the film shone through – the characters were real and genuine".
  "emotionally gripping"
  "technically innovative and striking"
  "a brilliant way to portray research"
  "beautiful and very intense"
  "a quite remarkable film"
  "a brilliant film, beautifully crafted and full of empathy"
"Rarely does one get the chance of seeing a love affair between two men portrayed on screen credibly and realistically, not to say very movingly".
"A kind of ' To Kill a Mocking Bird' type film that makes you really think about your morals".
Bournemouth University's Kip Jones (The Media School &; HSC) said, "Winning at prestigious film festivals such as RIIFF is important in getting the film seen by a wide audience. This is the kind of impact that we imagined from the outset of the research project itself". 
"I am particularly pleased for our director, Josh Appignanesi, who took on board the concept of fusion of research and a professional film and visually brought it to life through Rufus Stone."
"Gay and Pleasant Land? -a study about positioning, ageing and gay life in rural South West England and Wales" was  funded by Research Councils UK.The Rufus Stone microsite gives more information about the film, and the research that inspired it.