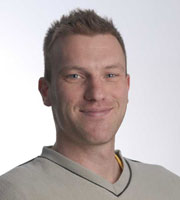 Our next exciting event has come around quickly and we look forward to welcoming Bryce Dyer to the stage on Tuesday 6th November.
Bryce is a Senior Lecturer in Product Design at Bournemouth University and is working as part of a team of design engineers and clinicians studying prosthetics at BU's Design Simulation Research Centre.  In this exciting talk he will be discussing prosthetic limbs and the role of technology in elite sport.  This is a topic that is hotly debated, with athletes such as Oscar Pistorius raising questions about the allowed length of competitor's blades.
Doors are open from 6.30pm so come along early to make sure you have a good seat and time to buy a drink or two before the talk begins at 7.15pm.  We have also arranged with Café Boscanova to have a small menu for the evening, along with the normal olives, flat breads and humus they will be serving:
Meaty Chilli, topped with yoghurt cheese and jalapenos.
Mung Bean Curry.
Both will be priced at £7.95.
Looking forward to seeing you there!