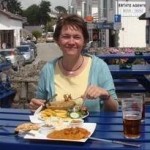 Hello!  My name is Jo Garrad and I'm the Funding Development Manager within the Research and Knowledge Exchange Office.
I am responsible for overseeing all aspects of the management of pre-award support for external research and knowledge exchange funding applications across the University. My challenge is to increase the quality and quantity of proposals to support the achievement of the University's research and knowledge exchange KPIs, and to design and implement best practice.
I have extensive knowledge of the external funding process from both sides having previously worked at the UK research councils for over 20 years.  I find that what I've picked up and learnt from being involved with academics for so long is beneficial when watching University Challenge.
I have a great group of people who represent the Funding Development Team.  The team comprises of Research Facilitators (including specialism in international and EU funding), Funding Development Officers, and a Funding Development Coordinator.  We can assist with all aspects of developing your proposal to increase your chance of success as we proactively contribute to the growth and development of research activity in schools/faculty.     
We have dedicated Research Facilitators available to develop and critique your proposal.  They can help you identify research teams; write, review and critique text; ensure your proposal meets the funder's strategic aims; suggest ideas to strengthen the content of your proposal;  help you form inter/multidisciplinary research collaborations; and facilitate internal peer review.  The Facilitators will horizon scan research funders' strategic agendas and potential future funding opportunities to ensure that we are ready to respond to these opportunities, maximising the Universities chance of success.  Paul Lynch and Emily Cieciura specialise in international and EU funding, whilst Jenny Roddis (contact for HSC and SciTech) and Alex Pekalski (contact for Media, ST and BS) specialise in UK funding. 
We also have Funding Development Officers (FDO) who provide  the school(s)/faculty with a single point of contact for all operational aspects of the pre-award process.  This includes checking eligibility and funder guidance, advising on timescales, costing and pricing, producing pre-award contractual documentation, institutional approval and proposal submission.  So, if you have an idea about what you want to apply for, contact your FDO and we'll kick start the process.  Ehren Milner is FDO for Business School and the School of Tourism, Jason Edwards is FDO for the School of Health and Social Care, Dianne Goodman is FDO for the Media School, and Kerri Jones and Alice Brown (joining us in December) are FDO's for SciTech.
In addition, we are responsible for the success of the development initiatives, which includes the Grants Academy, EUADS and BRAD.  You can find out all about these on the research lifecycle pages here.  Our Funding Development Coordinator (soon to be appointed) is responsible for administering these with oversight from the Faciliators.
So, a little bit about me to show that I'm not all work, work, work.  Outside of work I have a keen interest in birds.  I'm never far away from a pair of binoculars and you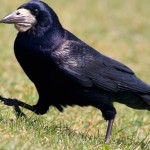 can find me most weekends walking around the New Forest staring at the sky or a bush and trying not to walk into a pony as I'm not looking where I'm going.  I particularly love all corvids as I find them fascinating.  The sight of a rooks beak and fluffy panteloons brings me great joy.  When I'm not bird watching, you can often find me watching football.  In particular, Swindon Town or more recently the wonderful non-league Bashley FC (is it obvious that I'm not following a team for glory?).  I love holidaying in the UK and am a keen walker (goes hand in hand with bird watching).  I probably spend too much time at beer festivals and like to think of myself as a gin connoisseur.
That's enough about me.  As soon as you have an idea about what it is that you want to do with research funding or if you want advice on how to kickstart research funding then get in touch with the Funding Development Team.  We're here to help.