Hello, I'm Jenny Roddis and I'm one of the Research Facilitators in the Funding Development Team in RKEO. Specifically, I will be working with the Faculty of Science and Technology and the School of Health and Social Care. I've been at BU for over ten years, so some of you already know me, but for those who don't, I've previously worked in HSC as Proposal Co-ordinator followed by my role as Senior RKE Officer for all of the Schools and Faculties at various points. The Facilitator post is an exciting new venture for BU, and one I am very pleased to be undertaking.
Together with Emily, Paul and Alex, I will be offering support for bid development, ranging from horizon scanning and identifying the most suitable funder or funding stream for your idea, through to working with you to develop your ideas, identifying potential collaborators and ensuring that applications are of the highest quality. I am also responsible for managing the Grants Academy (new dates coming soon!).
I am currently writing up my Doctorate, which is exploring perspectives on and understanding of life with a long-term condition, specifically thrombophilia and asthma, from the point of view of those affected. The study uses a grounded theory approach and data has been collected through semi-structured interviews. The findings are offering some interesting insights into how people with long-term conditions use information and knowledge about their condition, and other factors which affect life with such a condition.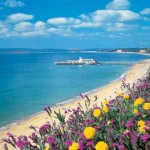 Obviously the Doctorate leaves little time for relaxing, but my favourite way to procrastinate is to spend time on the beach with my kindle. I'm looking forward to the day I can do this without feeling guilty!
If you're thinking about developing a bid, and would like some guidance, advice or support, or even just someone to bounce ideas off, please feel free to get in touch.